First National European Studies Congress, 18-20 September 2014, Warsaw
http://www.kongreseuropeistyki.uw.edu.pl/program#Program
Two-part discussion panel "Relations between Turkey and the European Union – Role of Poland", 19 September 2014
Participants:
 Adam Szymański, PhD – University of Warsaw - chair
 Prof. Justyna Zając – University of Warsaw
 Artur Adamczyk, PhD – University of Warsaw
 Prof. Wojciech Forysiński - Eastern Mediterranean University, Famagusta
 Jakub Wódka, PhD – Polish Academy of Science
 Justyna Misiągiewicz, Phd – Maria Skłodowska-Curie University
Third  National Political Science Congress, Cracow, 22-24 September 2015
http://www.kongres.wsmip.uj.edu.pl/documents/69967318/100427586/Program%20III%20Og%C3%B3lnopolskiego%20Kongresu%20Politologii.pdf
24 September, 9.00-10.30,
Wróblewski Collegium, Jagiellonian University, Olszewskiego 2
DOMESTIC AND FOREIGN POLICY OF POLAND AND TURKEY
(chair: Prof. Adam Szymański)
Poland and Turkey differ in terms of culture, religion, politcal history after the Second World War, social structures and directions of foreign policy. However, there are at the same time many similarities in their domestic and foreign policy. These differences and similarities are often connected with interesting issues going beyond the two cases of states. It is among others about: political parties and their leadership, struggle for independence and building of the civil society, minorities question, economic policy, European integration, including the Europeanisation process and the issue of "medium-sized powers" in international relations (in the context of foreign policy of the aforementioned states). These issues were the subject of comparative analyses presented within the panel. Its participants posed the question whether the similarities between Poland and Turkey are a result of existing of universal phenomena that can be present in completely different countries and regions, or whether Poland and Turkey belong to the states close to each other in terms of domestic and foreign policy due to the specific elements linking these states. They were examing also the question if the existing differences between the Polish and Turkish domestic and foreign policies were only a result of clear, often objective features which make these countries different or whether they were also the outcome of other factors.
Papers:
Organisation and leadership of political parties in Turkey and Poland – comparative analysis
Karol Bieniek, PhD (KEN Pedagogical University, Kraków)
The Kurdish issue in Turkey and in the Middle East from the perspective of Polish historical experiences. Inspirations for valuable diplomacy.
Joanna Bocheńska, PhD (Jagiellonian University)
Minority policy of Poland and Turkey. Comparative analysis.
Magdalena Szkudlarek, MA (UAM Poznań)
Europeanisation of Poland and Turkey – comparative analysis
Prof. Adam Szymański (University of Warsaw)
Poland and Turkey as middle powers. Comparative analysis based on 5C model of John Ravenhill
Jakub Wódka, PhD (Polish Academy of Science)
Second National Congress of European Studies
http://kongreseuropeistyki.whus.pl/program-kongresu/
26 September 2017, 17.30-19.00
Institute of Political Science and European Studies, University of Szczecin, Krakowska 71-79
Panel H11-2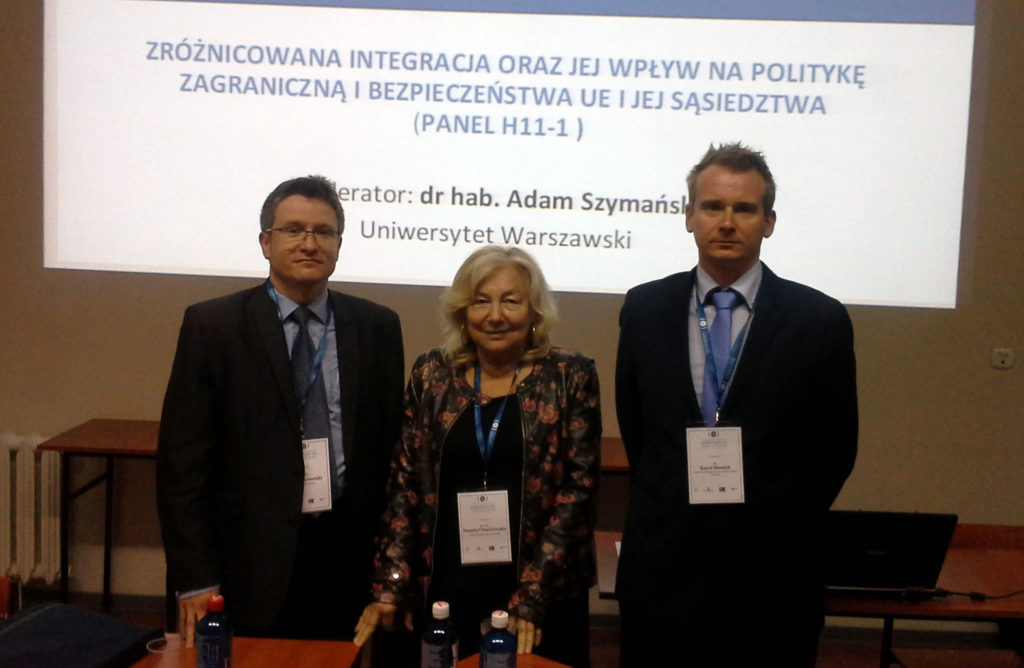 DIFFERENTIATED INTEGRATION AND ITS IMPACT ON THE FOREIGN AND SECURITY POLICY OF THE EU AND ITS NEIGHBOURS
(chair: Prof. Adam Szymański, University of Warsaw)
Karol Bieniek, PhD (KEN Pedagogical University, Kraków)
Republic of Turkey and the European Union in the search for a new model of cooperation
Prof. Adam Szymański (University of Warsaw)
Differentiated Integration, Turkey and the European Union – Chance for the Accession or Alternative Form of Tight Relations
Prof. Danuta Chmielowska (University of Warsaw)
Domestic Affairs in Turkey and the Possibility of Integration with the European Union